Johannes' Corvair Page
A endless story...
Some years ago a saw a car offered in our local newspaper. It was just called American Convertible. I like all kinds of Convertibles, so I drove there and had a look. But never had seen such a car before. It was a '65 Monza Convertible in red with saddle interior and top. The next days I tried to get information, but all I found out was: the only air-cooled US car, with a flat 6-cylinder in the rear. Finally, one week later, I bought the car. It looked OK, started good (after replacing the battery), and was driving very well.
Then the car gave me a very pleasant season.
After the next winter I just wanted to remove some minor rust, but the more I removed the more rust I found. So I ended in a full restoration of this car, without ever having planned or even thought to this. Unfortunately my job does not leave enough time for a continuous work. My wife is also expecting to see me from time to time outside of my garage (although she is tolerating this hobby).
I made this pictures before I started to do this "minor work":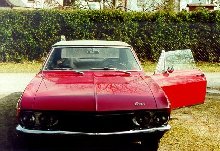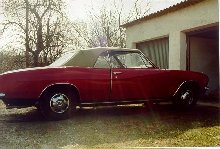 (you can click on each picture to see a larger copy)
In the meantime I am working for years on this project. Actually this means every second or third weekend.
See also some pictures of the ongoing work on my Corvair. After quite some break I continued to work in summer 2002. Some first results are in the "rear section".
Pictures from the spring '98 meeting of the Swiss Corvair Club incl. German Section.
---
Here some links into the Corvair world:
German Corvairs
Dutch Corvair
Corvairs in Sweden
Corvair Registry
Corvair's in Yahoo
Northwest Corvair

---
Please give me your comments:

Last update May, 2006
---
---
Interested in literatur live (in German)? >>>>>>> BooksOnStage
---